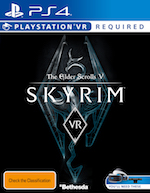 Skyrim never dies, having graced the PS4 already in HD goodness its back and in a VR wrapped package of goodness.
Rivalling perhaps Minecraft for platform releases most people will know of Skyrim whether or not they have walked its paths.
It's a game that has also been around a long time, so it might not be the prettiest of adventures, especially up close in the VR headset, but that soon washes away when you look into the distance and start to marvel at the world building around you.
It is fair to say that Bethesda have put some effort into the launch, the move controllers have had time and effort put into their mapping, almost to the point of being overworked and borderline confusing. It makes sense with practice, but can be a handful in the heat of battle. You can play with the standard controller setup, which makes for a smoother play, but takes away some of the intent. Wandering a dungeon casting spells in virtual freedom is a pleasant experience and all the more fun because of the Move controls.