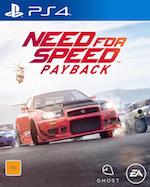 You wait years for some serious racers, then three come along at once. Only to get grit sprayed in their grills by the latest in the arcade style hi-speed hi-jinks crashathon Need for Speed franchise instalment.
NFS has been divisive at times, but has mostly done a good job at delivering entertainment. The franchise has been around for a very long time and the reveal of a new instalment can often reduce serious gamers to jelly when they see shiny screens and screeching tyres.
Now in Payback its time to get your Fast and Furious on, joining the underworld of high speed car crime in an alternate Nevada alike (aka Fortune Valley) landscape. The game is billed as delivering blockbuster moments interspersed with hi-octane thrills, this happens by cutting in plenty of well designed cutscene moments. Often triggered at a narrative point or when something exceptionally cool happens around you.
It works at the outset, hopping between three main characters and one supporting role its good to see how their story starts to flesh out, a story of revenge by the way as they fight their way to the top of a massive race in the hope of bringing down mysterious antagonist The House. the narrative may be a little clumsy, but the cutscenes dovetail well with the action and pull the scripted sequence along.
For a while you may be convinced that the failings of NFS: The Run have been left behind in a ditch, for a while you may think this instalment will have legs, for a while. Continue reading →