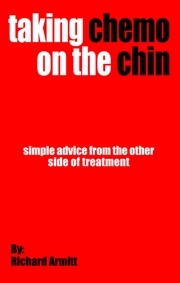 "This book comes directly as a result of the author's experiences dealing with his lymphoma diagnoses and its treatment, during which time he personally found supporting literature to be missing the mark and wanted to add his own thoughts and experiences to the mix.
"A helpful, honest and humorous look at the treatment of cancer, from the point of view of the author, a survivor."
"Taking chemo on the chin' by Richard Armitt offers patients and their families sound, useful advice on how to be "positive, win the war and be a battle scarred survivor" of lymphoma and related blood conditions.
When diagnosed with a blood cancer or condition patients often experience a myriad of feelings – one of which can be fear. Armitt's book presents a first-hand account of the physical and emotional aspects of the chemotherapy experience and how best to deal with them with confidence……….." ' Amy Munro, New Zealand Leukaemia and Blood Foundation.
http://www.leukaemia.org.nz/page/138
email : Richard(at)Koru-Cottage.com for further information.